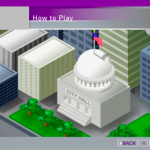 Millennial Learners Learn Brand
Basics by Building their Own Dealership in a WBT
---
Project 1
Problem:
This global retailer's youth-branded division wanted their learners to
understand and relate to their brand in the same way their millennial
customers do.
Solution:
A 30-minute web-based gamification course where learners earn coins and
the building blocks of a new dealership by successfully completing their
knowledge checks. The cumulative scoring system allows learners to use
their coins to buy product inventory at the end of the game.
Uniquely PBD:
Custom illustrations show the retail location in varying stages of completion,
along with the "extended metaphor": Learners who demonstrate knowledge
of proper employee behavior "earn" staff members, and activities that quiz
on product knowledge are rewarded with showroom items.