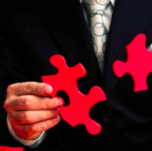 New Managers Inspired
by Words of Wisdom
---
Project 8
Problem:
This automaker's audience isn't the type to pick-up (much less read)
a technical or text book style of document, but they wanted a guidebook
for new managers to follow.
Solution:
New managers receive a 180-page magazine-style handbook, filled
with short 500-700-word "articles" on different aspects of management.
The articles featured attention-grabbing headlines, along with quotes
and ideas gathered from interviews with top performers in the company.
Uniquely PBD:
All of the topics are easy to digest, and by using the voice of experienced
mentors, we avoided the corporate "voice" being the only one telling new
managers what to do.